Hello!
This is a travel report from us at Knowit who visited Econef Tanzania last week! We are a group of IT consultants from Sweden that decided to do something special for our five-year anniversary as a company. We wanted to do a trip together for a good cause and decided to pay a visit to the Econef children center in Tanzania to explore where we could use our knowledge to help develop the center. Yesterday we came back to Sweden again after a week full of new experiences and memories for life. Thank you so much Econef for having us!
As part of our trip, we wanted to share both knowledge and donations that could be used for long term development, sustainability, and increased knowledge for the involved people around the center.
Due to our profession in the area of IT, an activity we thought could be helpful was to educate and inspire both the oldest children, people helping Caroline at the center and other invited people from the region, in computer and information technology. On site at the center we planned a workshop with a combination of theory and practical exercises. Around fifteen people came to the workshop where they got an introduction of both how a computer works, what internet is, and how they can use different computer applications in both professional and personal matters. For exemple, participants got the opportunity to write their own CV in a word editor, compose a family budget in a spreadsheet, and make a presentation with the purpose of communicating important findings from accomplished projects. The workshop ended with a mandatory Swedish "fika" where contact information was shared between the participants and us with the hope to keep the contact and support with further knowledge sharing.
The day after the IT class, Caroline came to us and said that the workshop was appreciated and that she wanted to set up a follow up session already the day after. Without any further ado, we prepared a new agenda, invited both new and old participants, and went through a couple of new exercise which also seemed to be appreciated. We have now left a couple of computers at the center and hope they will be used both as support in education but also to rise overall IT awareness.
We also prepared a couple of activities for the younger children at the center. An example was to introduce an educational play game from the Swedish company Strawbees. The children were introduced to how to play and build different geometrical shapes with the provided straws and equipment. The staff at the center also got an introduction on how to use the material as a part of the educational program, which hopefully could help to stimulate and prepare the children for the future school work.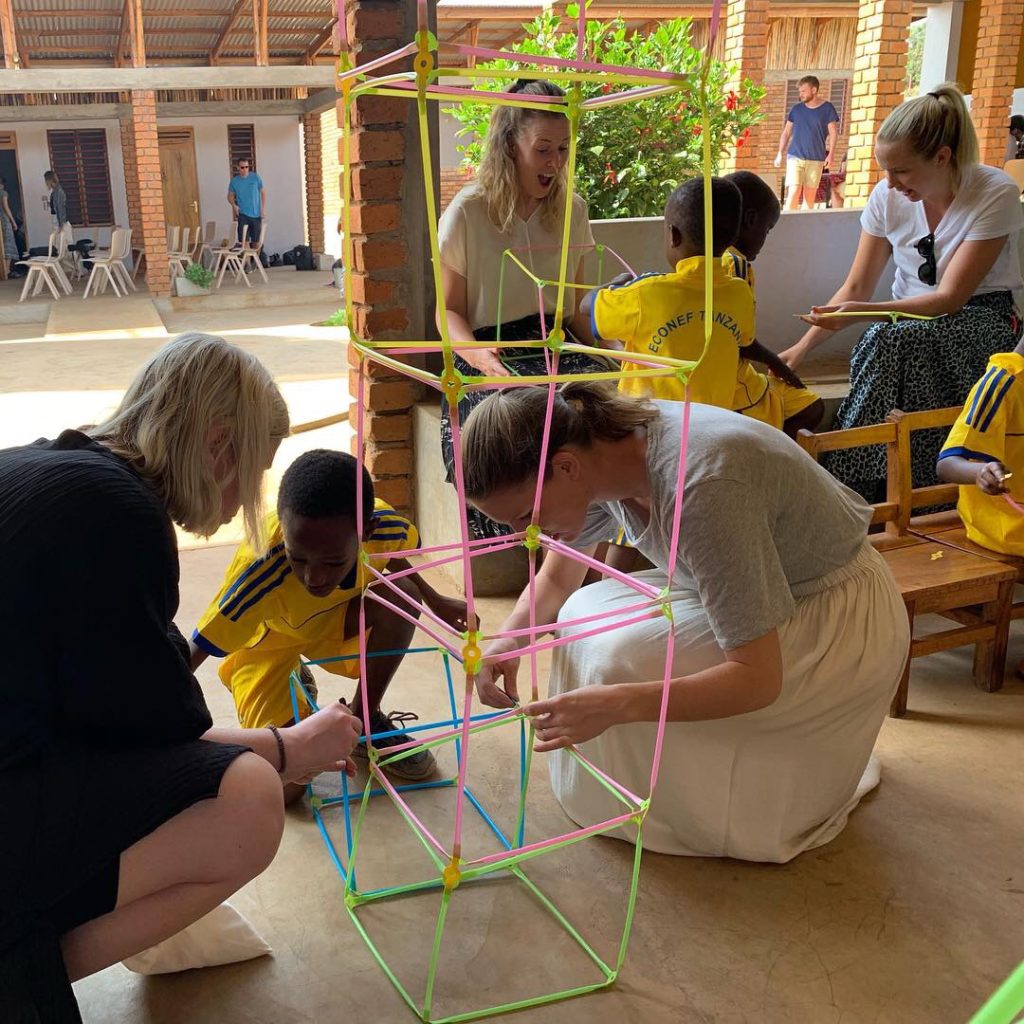 As a part of the expansion plans with a new building aimed for a day care center, we supported with measurements for the foundation of the new building. As a part of this project, a team from us took measures and information of the land to provide to the architects. This project will be started as soon as the donations has reached enough funds. If you would like to support the project you can donate here.
This week has been an emotional roller-coaster with many impressions and memories that will be carried with us for a very long time. Caroline and all her staff are doing an incredible effort to support the most vulnerable children, and we truly admire all the efforts Econef has put in to develop the children center to what it is today.
We are saying goodbye to Tanzania for this time and hope to be able to come back in the future! Thank you Caroline and all the children for having us during this week!