Written by Karin Ahlberg & Lydia Winninge
Preparations has been many and after several days treating the wood with anti-termite the roof construction has begun.
To start, we needed a perfect prototyp truss to assist in the building of the rest ones. This since the workers prefer taking measurements from a built object rather than using drawings. The first truss made needed some improvements in detailing, so we stayed out in the dark to to finish, lighting the workshop with solar lamps and torches in order to have a new one ready before the building team would come back the next morning.
This second prototype was perfect and the production of the trusses for two of the houses is running. Ericis team have got help from more people in order to speed up the process, with the goal too finish the first roof this week while there are still volunteers one site. The remaining two will start as soon as the economical situation allows.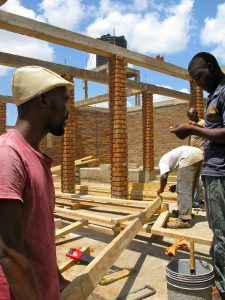 Erici, Chirstian and Peter taking down the form for the second level of the tower. A work that has been paused since the roofing needs to be finished.
Last saturday we visited the children in their current home and brought paper, clay and colored pens. Playing together, drawing and folding paper planes, as well as seeing them taking care of each other, joking and laughing was very enjoyable. It is nice to spend time with the future users of the building we are making.
In the new children centre, we can picture one of their favorite spaces to be the built in sofas in the study room; just as one of ours is the sofa on the terrass of the Baobab House. The sofas are in a shaded place, protected from rain and will be comfortable with pillows – giving the kids a nice space to both study and play.

Imanuel, Ebeneza and Clinton
Hosianna, Brian, Naomi, Faradja and Maria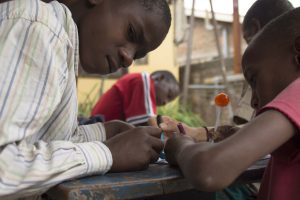 Rajabou and Clinton drawing while Faradja sits in the back rinsing rice
Future photographer?
Gathered in the baobab sofa today are seven people. Except for Lydia and Karin there are the volunteering landscape architects Anna, Julia, Hanne and waste water engineer  Johanna with her son Ragnar, that pays Econef a vist of for ten days. They are here to work with an ecological grey water system and designing the court yards.
One thing that we find beautiful in this project is how many people that are involved and contribute in different ways. Econef children center is a real collective act, where all: from the donators to architects, volunteers and others spreading the word are connected in the work of creating a better home for the children.
Kwaheri!
Lydia and Karin